Part 1
Available:
Perfect bound
ISBN 978-1-329-87355-1
Or as a:
PDF
ISBN 978-1-329-92666-0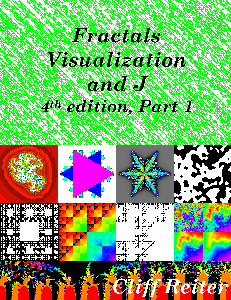 Part 2
Available:
Perfect bound
ISBN 978-1-365-72803-7
Or as a:
PDF
ISBN 978-1-365-73923-1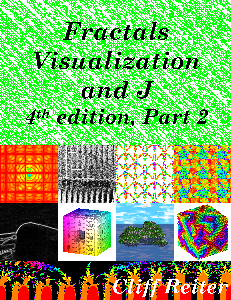 Sample Sections:
1.1 Some Arithmetic with J
Section 1.1 incorporates more discussion (compared to previous editions) of simple J parsing rules with illustrative tables.
2.8 Experiment: Collages of Transformations
Section 2.8 is a classic section where J's gerunds and high dimensional arrays are used gracefully to create beatiful fractals.
3.8 Experiment: Forecasting via Best Analogs
The forecasting method has been substantially simplified from earlier editions while its startling effectiveness remains.
There is a rich selection of exercises in the Iterated Function Systems chapter.
5.7 Inverse Iterated Function Systems
Section 5.7 is a classic section giving a different view of iterated function systems that is offers colorful enhancements. This section also prepares the way for complex escape time images.
6.2 Experiment: Julia sets for Elliptic Curves
A new section with complex escape time images using functions rarely seen.
7.6 Experiment: The Hodgepodge Rule
A section that models infections in space and time and under some circumstances self-organizes spiral structures.
Sample Sections:
8.4 Experiment: Color Spaces
Section 8.4 discusses various color space models and illustrates making improvements to images in those spaces.
9.8 Experiment: Crystallographic Symmetry on a Square Lattice
Section 9.8 develops techniques for creating chaotic attractors on a square lattice.
10.3 Experiment: Painter's Algorithm and Surface Plotting
A surface is rendered by projection and plotted by showing most distant polygons first.
Cellular automata in three dimensions that self organize are developed.
12.1 Experiment: Visual Form for Exploring Palettes
Section 12.1 introduces a form that allows for palettes to be edited. It is useful as a utility for making aesthetic chaotic attractors from those in Chapter 9 and provides a working example for the discussion of developing forms in JQT.